| | | |
| --- | --- | --- |
| | | |
| 1. Align | 2. Push | 3. Rotate to latch |
PATCO introduces the fastest battery/pony mount in the world!

PATCO Inc. is proud to introduce yet another revolutionary product: the SR-71 Battery/Pony Mount. It is the fastest pony and battery pack mount on the planet, so we decided to name it after the world's fastest jet, the Lockheed SR-71 Blackbird. While the Black bird is very complex, the mount is simple. The PATCO SR-71 Mount is constructed from the highest quality aluminum and stainless steel.

A simple push & turn action (less then 1sec.) will assure a flush, rigid mount of the pony bottle or battery pack against the tank, without any alignment of holes or insertion of pins. While diving, the majority of pony and battery mounts generate annoying clinking sounds. The SR-71 Mount is absolutely silent because there is no play between the two mating parts when latched. The mount is extremely rugged, and will automatically compensate for natural wear so this constant tightness is maintained throughout the life of the mount. To release the mount, simply push the release button and pull out the pony bottle or battery pack. The SR-71 Mount consists of two male brackets for two tanks, one female bracket for a pony bottle or battery pack, and six stainless steel bands. It takes only minutes to set up and lasts a lifetime.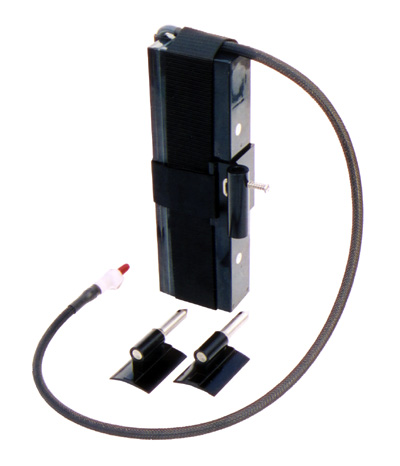 (Battery Mount Shown)
A simple slide-in and lock system is used for attaching a battery pack quickly and easily to the tank, or switching to another tank. It is available as a right or left side mount. Two-tank system included female bracket, battery strap, 2 male brackets, and 4 bands.

Copyright© 2003 Patco, Inc.
Web Design by Ambitious Web

PATCO is a manufacturer of AQUA HEAT, AQUA LITE(also know as Aqua Light) and AQUA GUNS. In simple terms, we make wetsuit and drysuit heaters, underwater lights, 10 watt hid light heads, spearguns and spearfishing accessories. Patco's scuba diving equipment is high quality, technologically advanced, state of the art, fully guaranteed, and are geared to safety, enjoyment, comfort, and maximum value.